WE RECEIVED THE FOLLOWING ANNOUNCEMENT FROM GROVER DULING INFORMING PEOPLE OF A SPECIAL BRETHREN PRAYER AND WORSHIP SUMMIT SCHEDULED IN APRIL OF 2018. WE ARE HAPPY TO PASS THIS ALONG TO YOU… KENDAL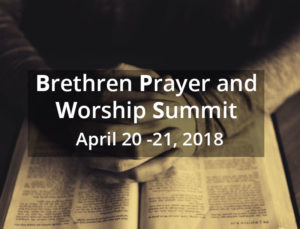 Brothers and Sisters,
A call is going out to come together for a denomination-wide BRETHREN PRAYER AND WORSHIP SUMMIT to be held at the Rockingham County Fairgrounds, just South of Harrisonburg, Virginia on US 11, on April 20-2l, 20l8. This is a follow-up to a gathering that was held at Moorefield, WV, on August l9, 20l7 where much concern was expressed about the direction of the denomination, especially related to the issue of homosexuality. Attendance at this gathering was limited, about fourteen districts were represented. From that meeting the concerns were presented to the Mission and Ministry Board of the Church of the Brethren in its October meeting.
It was determined that the next step should be to hold this PRAYER SUMMIT to seek God's direction for the future. The nature of this gathering will not be to conduct any kind of official business. We will not be discussing issues or making motions or signing petitions or taking votes in any kind of formal way. The over-arching theme of this event will be found in the great revival verse of the Old Testament, 2 CHRONICLES 7:l4 "IF MY PEOPLE, WHICH ARE CALLED BY MY NAME. WILL HUMBLE THEMSELVES AND PRAY, AND SEEK MY FACE, AND TURN FROM THEIR WICKED WAYS; THEN WILL I HEAR FROM HEAVEN, AND WILL FORGIVE THEIR SIN, AND WILL HEAL THEIR LAND."
Some Brethren speakers have been invited to focus on sub-themes of repentance and confession, grace and forgiveness and healing and hope. They are Julian Rittenhouse (Shenandoah District), Stafford Frederick (Virlina District), and Joel Billi, President of EYN, Nigeria. There will be no cost to attend this event. A few offerings will be received. Most of the leadership of this event will be volunteering their time and travel.
This is being called a BIG BRETHREN PRAYER MEETING. The main building at the Fairgrounds can accommodate l,000 or so around round tables. The invitation is wide open for all Brethren. COME ONE, COME ALL! Do not come to be critical! Come to be humbled. Come to be challenged. Come to be revived. Come to move forward.
ONSITE CHECKIN/REGISTRATION BEGINS at 4pm on April 20 To learn more about this event and register early on line, please check out the website at brethrenprayersummit.com
This is a free event, seating is limited, so register early.
Hope to see you there, Grover Duling on behalf of the Planning Committee.
You may contact me here: groverduling@gmail.com