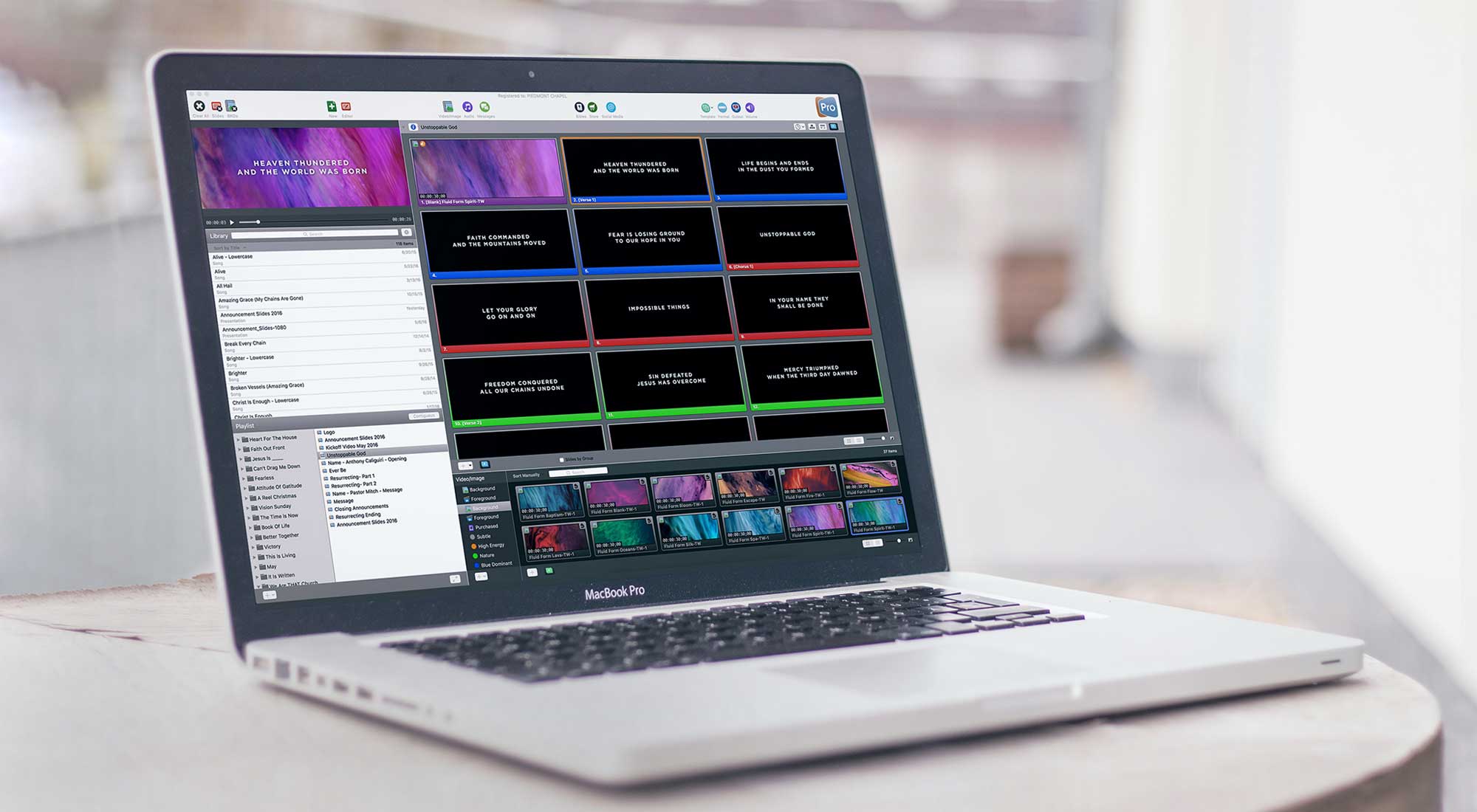 Presentation in worship is more than just a matter of picking the right projector and creating a PowerPoint of lyrics. There are so many ways that you can update your worship presentations, creating a modern, immersive experience that draws your congregation into a worshipful mindset.
The type of software you use plays a big part in creating this experience. There is a lot of competition in the software industry, which means that you have quite a few choices when choosing the right presentation software for your worship service. That's great for you; it means you have the ability to try out several until you find the right one.
Software isn't always affordable, though, so it's best to do a little research before diving right into test runs. It's important to be sure that the software has the basic features that you need for your worship presentations; that it is easy to learn, so you can train multiple volunteers on its use; and that it will integrate with the rest of your worship tech. Here are a few of the most popular worship software on the market to check out:
ProPresenter is a presentation software that works with either Windows or Mac devices, and is specifically made for worship services and other large events, such as conferences. Everything about ProPresenter is designed to be simple. A single screen controls everything; there is no separation between creation and editing, and presenting; everything you see on your screen is what you get. This makes it very simple to train volunteers who may not have tech experience.
The big draw for many is that ProPresenter focuses on high-quality output. Videos, slides, and graphics all look professionally designed through the software There are tons of great features for creating slides, including the ability to transition just one element of a slide, rather than the whole thing. The software comes with access to a media store where you can find graphics and other content, as well as the ability to import lyrics for accuracy. Plenty of integration with mobile devices and other tech mean you'll be able to use it with your other church equipment easily.
At $399, ProPresenter is also one of the more affordable options on the market.
Source: http://www.renewedvision.com/propresenter.php
---
EasyWorship is a professional design software that allows for all the custom settings and features that tech gurus need to create perfect presentations. However, it's also user-friendly enough to allow for easy training. With an interface that mimics basic office software, it's fairly easy to get started creating slides for both your worship service and the pastor's sermon. EasyWorship allows for element stacking, so you can add logos or watermarks on certain slides. It also integrates with recording software like Blackmagic, so you can control everything from a single workspace.
There are also built-in search functions, sharing tools, the ability to build custom templates, and many other great features. At $499, it's not unreasonably priced for the features it carries.
Source: https://www.easyworship.com/
---
OpenLP is an open-source presentation platform that was created to offer a wide variety of features for multiple church sizes at no cost. That's right, it's completely free. The user interface isn't as modern as the paid versions listed above, but it has all the features you could need for a seamless presentation.
If your church has recently transitioned to projected lyrics, slides, and sermon notes, this may be the perfect software to start out with. It will give you time to get comfortable with how presentation software typically works without the investment. It also comes with a built in web app so creating presentations remotely is easy to do. OpenLP also has an Android app that allows you to control the slides even if you aren't sitting behind the computer. This could be an ideal feature for pastors that want to control the slide transitions during announcements or their sermon.
Source: https://openlp.org/
---
Hopefully the information in this post will help you make the right decision for your church when you choose a presentation platform.
Did this article help you? We'd love to hear from you!
SOURCE: https://churchmediatech.com/2016/05/05/church-presentation-software-roundup/