We have been talking about the "Decade of Discipleship" for some months now. This emphasis is intended to help all of us focus more clearly on following Jesus. In the first chapter of John, we see persons coming to Jesus who would become his disciples as time went by.
Jesus told Andrew, "Come and See…" Andrew brought his brother, Peter, to Jesus… Jesus "found" Philip who invited Nathaniel to come, Jesus told Nathaniel "Come and See…"
These "Come and See…" invitations were invitations to come and "follow." Follow Jesus… Those who followed Jesus then and now, are "DISCIPLES" of Jesus. Those of us who look to Jesus as our "Savior," must also look to Him as "Lord." I believe the function of Jesus as Lord, is understood to mean He's the BOSS. When we come to Christ, we SURRENDER self and become SUBMITTED and SUBJECTED to Jesus. At least, we SHOULD. We are, however, created with a FREE WILL. We will continue to be SUBJECT to Jesus whether or not we are SUBMITTED to Him.
One of our pastors and I were talking recently, and he lamented the reality of congregational decline across the spectrum of churches in the US and the sadness of it in the West Marva District. We further shared our views on the decline of Evangelism… It is my firm belief that our evangelism is so weak because we are not functioning as DISCIPLES of our Lord, Jesus Christ. Perhaps we are like the church at Ephesus. John reported in the second chapter of The Revelation, that they had "lost their first love."
I believe most of us remember the depth and breadth of our love for Jesus when we first experienced the New Birth, and identified with Christ through water baptism and becoming members of His church.
Are we, as baptized church members, actually "DISCIPLES?" (or… just church members?)
Consider that the twelve whom Jesus called as His disciples literally lived with Him. They travelled together, they ate and slept together. The twelve observed the things he did, and heard the things he said. As Peter wrote in his epistle: "For we did not follow cunningly devised fables when we made known to you the power and coming of our Lord Jesus Christ, but were eyewitnesses of His majesty." 2 Peter 1:16 (NKJV)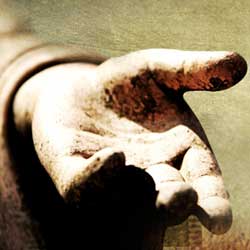 Consider also the description of the early church in Acts "And they continued steadfastly in the apostles' doctrine and fellowship, in the breaking of bread, and in prayers… Now all who believed were together, and had all things in common, So continuing daily with one accord in the temple, and breaking bread from house to house, they ate their food with gladness and simplicity of heart, praising God and having favor with all the people. And the Lord added to the church daily those who were being saved." (From Acts 2:42-47)
My feeling is that we need to fall in love with Jesus all over again! Review Matthew 22:37-39 and 28:19-20… In these texts we are told, BY JESUS to Love God, Love Others, and GO MAKE DISCIPLES.
On page 4 of this issue (March / April 2016), is information about our first events in the Decade of Discipleship process. Everyone who can, please take advantage of the opportunity to attend. Register by phone, by email, by USPS mail. Even if you cannot register in time to get a Participant Guide Book, we need to know how many are coming in order to prepare food. (Brethren DO eat!)
PLAN TO ATTEND!