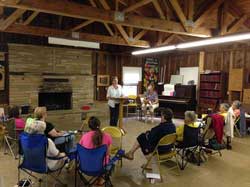 The Women's Fellowship organization has been in existence for a number of years. The purpose of the organization is help develop and strengthen the local groups. To interest women in worship, study and witnessing and to cooperate in service projects which will enhance the total program of Christ and His church is another goal of the group.All members of local Women's Fellowship organizations of the Church of the Brethren of the West Marva District shall be members of this organization.
The group meets twice a year, in the fall and the spring for our annual rally. A church from the district will host the day long meeting. Additionally, once annually the group organizes a district trip to the Brethren Volunteer Service Center in New Windsor, MD to help with SERRV. Also, the women hold an annual Women's Camp at Camp Galilee each summer.
A CHILDREN'S ASSISTANCE FUND has been established for the school children of the district. This fund provides money to school children up through high school with things that they might need that the family cannot provide. All schools within the West Marva District have been notified of the fund and can be in touch with the district office for more information. Monies to assist this project will come from the district women through special offerings from local fellowships and may come from our bi-annual LOVE offering.
Anyone wanting more information may contact the West Marva District office for more information.